Webshop
Exclusief topSlijter
Aanbieding
Ayala Brut Majeur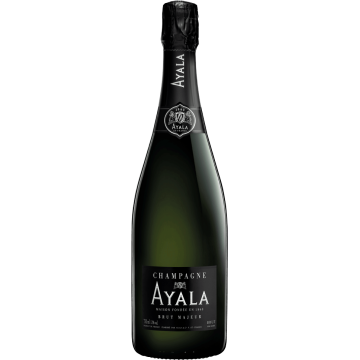 Productomschrijving
Ayala Brut Majeur is de belichaming van de frisse en elegante stijl van dit Champagnehuis. Een ware ambassadeur! Langdurige rijping in de kelders en een lage dosage maken deze Champagne geschikt voor iedere gelegenheid. Ayala Brut Majeur heeft een lichtgouden kleur en rijkelijk aanwezige, fijne bubbels. Uitnodigend, expressief en fruitig met een heerlijke lange afdronk.

Ligging
Het Champagnegebied is een uitgestrekt gebied rondom Reims. Het wijngebied, in de prehistorie een binnenzee, wordt gekarakteriseerd door een speciale kalkbodem die bestaat uit fossielen van zeedieren die toen in deze binnenzee leefden. Door de noordelijke ligging van het gebied worden de Champagnes altijd getypeerd door een zekere frisheid.

Vinificatie
De brut van een groot Champagnehuis is de champagne die het beste de stijl van het huis weergeeft. De toevoeging 'Majeur' benadrukt de hoge kwaliteit van deze basischampagne. Het lage suikergehalte van slechts 7 gram per liter (gebruikelijk is 13 g/l voor een Champagne Brut) is daar een bewijs van. Een frisse, schone en zuivere Champagne: dat is de Ayala stijl!
€ 

34.67
€ 

30.99
Bottle
Ayala Brut Majeur aktie
In shopping cart
Product Information
Origin

France

Region

Champagne

Volume

75 CL

Alc.Vol.

12% vol

Type wine

Champagne

Type of taste Wine

Fresh & Friendly

Pairing

Als feestelijk aperitief, bij verfijnde voorgerechten en lichte hoofdgerechten. Bijvoorbeeld een salade van kalfszwezerik, oesters, warme kreeft en coquilles. Combineert ook goed met een fris dessert met vers fruit of tarte tatin.