Webshop
Exclusief topSlijter
Aanbieding
Ardbeg Uigeadail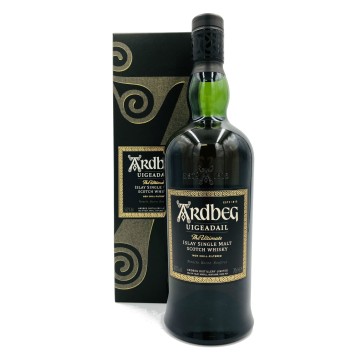 In 1794 bouwde illegale whiskystokers een illegale stokerij en in 1815 is toen de legale distilleerderij geopend. Ardbeg is tussen 1981 en 1989 voor verbouwingen gesloten geweest. De moutvloer werd toen ook niet meer gebruikt en Ardbeg betrekt het mout nu van buurman Port Ellen. Deze mout is nog steeds het meest turfhoudend van het eiland. In 1996 is de Ardbeg weer gesloten maar in 1997 door de huidige eigenaar geopend onder leiding van de toenmalige manager Stuart Thomson, die zijn sporen bij Glenmorangie reeds verdiend had als mash man. In het stillhouse van Ardbeg staan één wash still en één spirit still, die met stoom verwarmd worden. De stills zijn bijna even groot, bij andere distilleerderijen zijn de spirit stills meestal kleiner dan de washstills en de stillman van Ardbeg moet eerst tweemaal een eerste distillaat distilleren om de spirit geheel te kunnen vullen. De rijping van de new spirit van Ardbeg vindt plaats op nieuwe en refill bourbon vaten. Het water om te brouwen komt via een pijpleiding uit een meertje Loch Uigeadail geheten. De nieuwe eigenaar zal de productie van Ardbeg uitsluitend als non chill-filtered single malt op de markt brengen.
Uigeadail is een speciale Ardbeg's botteling. De naam komt van het "Loch" meertje waaruit Ardbeg zijn water onttrekt. In 2009 werd in Jim Murray's Whisky Bible de Ardbeg Uigeadail tot 'World Whisky of the Year' uitgeroepen. Het is een vatting van oude ex-Sherry casks. Non chill-filtered met een alcoholpercentage van 54,2 waardoor maximale smaak behouden blijft.
€ 

66.11
€ 

57.84
Bottle
Ardbeg Aktie
In shopping cart
Product Information
Origin

Scotland

Region

Islay

Volume

70 CL

Alc.Vol.

54.2% vol

Type whisky

Single Malt

Type of taste Whisky

Strong & Smokey

Taste

Zoetig wat doet denken aan fruitcake en stroop. Rokerig wat doet denken aan barbecue smaak. Verder ingrediënten als dadels, rozijnen en zoete sherry.